2004 BHCC National Specialty

BHCC Specialty Show Results
Saturday June 5, 2004
Caledonia Fairgrounds, Erie Shores Kennel Club

Judge: Mr. Jose de Mello

BEST OF BREED
CH Bayowulf's Longfellow of Obie
Rodica Stoicoiu ,Michael Ambrose and Margaret O'Brien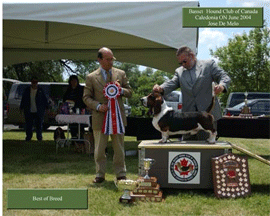 BEST OF OPPOSITE
Saranade-n-Obie Wild Thing
Margaret O'Brien and Melinda Brown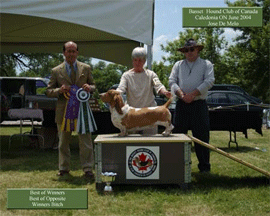 BEST OF WINNERS
Saranade-n-Obie Wild Thing
Margaret O'Brien and Melinda Brown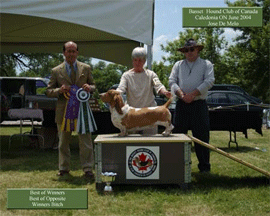 BEST PUPPY
CH Bassetarium Obie O'Hullabaloo
Debra Hull and Margaret O'Brien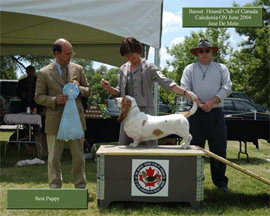 Puppy Sweepstakes


BEST IN SWEEPSTAKES
Wilburdans Bittersweet Memory
Rose Dancocks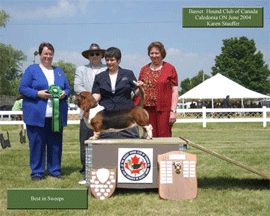 BEST OF OPPOSITE
Wilbudans Full Circle
Carol & Bob Bedell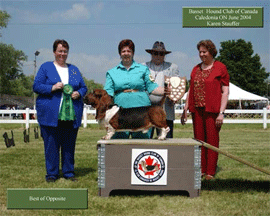 Veteran Sweepstakes
BEST IN SWEEPSTAKES
CH Soundtrack Rainbow Connection
Miriam Dalfen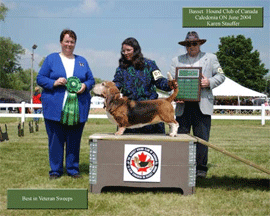 BEST OF OPPOSITE
CH Soundtrack Up Up and Away
Miriam Dalfen






Specialty


WINNERS DOG
Wilbudans Full Circle
Carol & Bob Bedell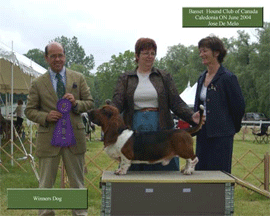 WINNERS BITCH
Saranade-n-Obie Wild Thing
Margaret O'Brien and Melinda Brown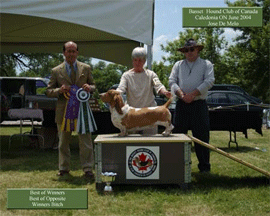 STUD DOG
CH Soundtrack Roll me Away CD
Miriam Dalfen


BROOD BITCH
Ch Bow-Ridge's Iris CD
Debra Hull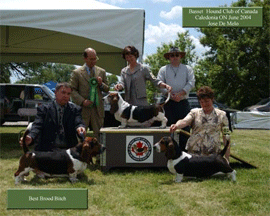 BEST CANADIAN BRED
CH Hullabaloo's I.P.O.
Debra Hull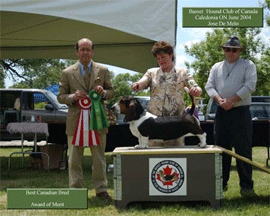 BEST OF BREED ALTERED
CH Soundtrack Locomotion
Miriam Dalfen


AWARD OF MERIT
CH Hullabaloo's I.P.O.
Debra Hull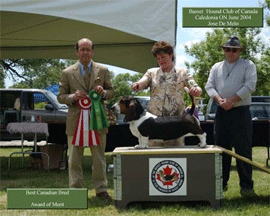 Written Critics

Specialty Judge: Mr Jose De Mello

It was with great pleasure that I accepted the invitation to judge the Basset Hound Club of Canada Nationals.

On Friday, June 4th, at 7:25AM I took the plane from Lisbon to Toronto, where I arrived around 4PM. The Bowmans were waiting for me and we drove back to their wonderful house. Later they invited me to have dinner at a really nice restaurant.

The showgrounds were nice and I was surprised with the wonderful trophy table you had, full of presents for everybody- but let's talk about dogs.

The overall quality of the dogs was nice, with good type and temperament, good heads with excellent pigmentation. If you want me to be critical, I think that you must improve the fronts and ribcages.

My Best Puppy was " CH Bassetarium Obie o' Hullabaloo", a lemon and white bitch with an excellent head and expression, good front, good movement, but I would like a better top and under lines.

The Winners Dog was the dark tri-color "Wilburdan's Full Circle", a 15 month old dog with a nice head and excellent pigmentation, nice front, the topline could be more level and the angulations behind a little bit more pronounced.

"Obie's Dot Com" was Reserve Winners Dog, a wonderful head, again good pigmentation, could have a little bit more reach of neck, excellent top line and rear angulation.

Winners Bitch, Best of Opposite and Best of Winners was "Saranade-N-Obie Wild Thing", a beautiful lemon and white bitch. Very sound with an excellent expression, very feminine, good reach of neck, nice topline and ribcage and a wonderful movement.

"Craigwood's OL'South L'Iledefeu" was Reserve Winners Bitch, a nice profile and deep chest, good topline and ribcage, good rear angulations, could have a little bit more drive in movement.

I also want to say some words about my Best Canadian Bred and Award of Merit, CH Hullabaloos IPO, a wonderful bitch, with an excellent reach of neck, nice topline and rear angulations. Unfortunately a wide front movement.

Best of Breed was "CH Bayowulf's Longfellow of Obie" a young dog with a wonderful masculine head, excellent reach of neck, good sternum, excellent topline and ribcage, good rear angulations and movement with great drive.I think that this dog is not yet finished and that when he matures completely, he will be much more impressive.

I enjoyed very much the day and I would like to thank all the club members for their wonderful hospitality, and atmosphere around the ring. A very special thank you to Roxy and Lou Bowman for receiving me at their wonderful house, and taking care of me during my stay.

Thank you all again for the wonderful time I spent in Canada.


Mr Jose DeMello